Full email support powered by Google Apps
ATTENTION! This will only work if you have our nameservers, not just an A record. Currently, we offer full email support only to your own domain. Will not work with free subdomains.
Register today your own .com .net .org. info domain at http://main.protonhosting.com with just $9.99/year. Special prices:
.us, .in, .co.uk $5.99/year. Whois Privacy included for free.
---
1. go to https://www.google.com/a/cpanel/standard/new3.
2. check Administrator: I own or control this domain, type your domain in the box then hit Get Started button.
3. In the next page fill the form with your details. For email use actual email working address else you will not be able to reset password or to get important information about your account. When you're ready and if all required fields were filled, hit Continue button.
4. In the next screen Set up - Create your first administrator account (step 3 of 3), type webmaster or anything you want for your main mail account. You will be able to create other accounts after you log in.
Hit the button I accept. Continue with set up>> and you're almost ready.
You must now see the firsttime screen of your account.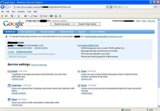 CLICK TO ENLARGE
Four things (as marked in screenshot) to finish the job:
a. Verify domain ownership, b. Activate email, c. Service settings and d. Create new users.
If for any reason, the panel was closed, log in with your newly created details at http://mail.google.com/a/yourdomain.com
--->Manage this domain. Don't forget to replace yourdomain.com with your own domain.
a. Verify domain ownership
From droplist choose Upload an HTML file then follow the instructions. You must upload under your account (freewebhostingarea) the file googlehostedservice.html with that unique code inside.
Verify if the file was uploaded correctly at http://yourdomain.com/googlehostedservice.html and when you're ready hit the Verify button. Done! Domain ownership was verified.
b. Click the link Activate email as marked in screenshot. As all MX and spf records were already created by us, you just have to hit I have completed these steps.
You will see an Updating status near Email and a message: We are checking MX records for your domain. This may take 1 hour to complete. The process can take less that 1 hour and soon Email become Active.
c. Click Service settings from toolbar and choose Email from droplist. You will see:
Your users can access Email at:
http://mail.google.com/a/yourdomain.com
Change URL
Click Change URL, check the radio button for custom url and type "mail". Attention, only mail.yourdomain.com will work as CNAME record is already there.
Hit Continue button and done! You can now access your Inbox via custom url: http://mail.yourdomain.com. For account management choose Manage this domain from menu.
ATTENTION!!! Custom url http://mail.yourdomain.com will NOT work for third level domains like yourdomain.co.uk, yourdomain.com.br etc. etc. But you can access mail service at default address sent to you by email at registration.
d. @Dashboard -->use Create new users to add new email boxes under your account for you or your friends.
If you need extra help or if you want to report a bug, contact us @ http://www.freewebhostingarea.com/contact/